Ship chronometers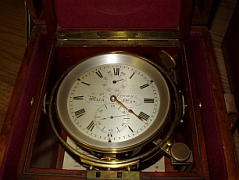 Manufacturer: A. Arway, Beč
Year of production: unknown
Serial number: No. 28
Oscillator: Period 0.5 s
It's unknown when the clock was set to operation, but this chronometer has been at Geophysical Institute from the first time-correction measurements done by A. Mohorovičić with the passage instrument in 1892. It was often used to "transport" the accurate time to remote locations.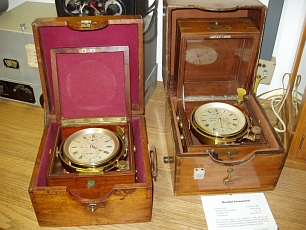 Manufacturer: Ulysse Nardin
Year of production: 1913
Serial number: No. 549
Oscillator: Period 0.5 s

The clock was set to operation on December 31, 1913. It was the backup clock used for time-signals on Wiechert seismographs.
The clocks at Grič were operating until October 17, 1984. The watchmaker Ivan Geresdorfer thoroughly cleaned, fixed and reinstalled the clocks, so that they were operating again from December 11, 1984 until 1996. Up to the end of the homeland war (1991-1995) these clocks, with all the necessary equipment, were able to transmit time-signals within hours, if needed.